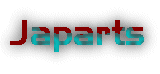 " Do you want your Estima serviced by Toyota trained technician? We have more resources for obtaining Estima parts than anyone else in the UK. We can offer up to 10% discount off stock Estima spares for visitors to The UK Toyota Estima Site." To obtain the discount you MUST mention The UK Toyota Estima Site. Contact John for servicing on 0208-457-2273 Contact Michael for bodyrepairs on 0208-457-2255

Contact Jim for parts on 0208-202-8963

Here's some pictures of their facilities, and why not check out their website here.