Toyota Estima Model Range The Estima comes in three variants which are known as the Estima, Estima Lucida and Estima Emina respectively. The main difference is that the Lucida and Emina models are approximately 110 mm narrower than the standard Estima, and 70 mm shorter,which makes the Estima the closest model to the UK Previa. As the three models share the same wheel-base, this can be easily identified by the Lucida/Emina having flared front wheel arches to accommodate the size differential. It is the opinion of some that the Lucida/Emina models handle better, particularly on our narrower roads.

In the pictures below you can clearly see (picture resolution permitting) the flared wheel arch on the Toyota Estima Lucida/Emina Model, whereas the Toyota Estima Model's wheel arch is flush.
| | |
| --- | --- |
| | |
| Toyota Estima Model | Toyota Estima Lucida/Emina Model |
After trying to locate a standard Toyota Estima with a diesel engine, it has become apparent to me that there are none available. After researching a few Japanese dealership web sites, I believe I know why........Toyota do not make them! Only the Lucida/Emina models can be supplied powered by the turbo diesel. The main reason why the Lucida and Emina exist is simply to beat the tax system in Japan. Unlike in the UK, taxation for cars are far more complex in Japan. Tax rates are determined by different criteria, the main factor being the engine capacity and the body size (area size) of the car. In other words, small cars with big engines will be categorised in a higher band tax at the same time as a car with a small engine but a bigger body. The Estima, due to its size, is classed in the higher tax band for the road tax. However, as the Lucida and Emina are slightly shorter than the standard Estima, they falls into lower band category for tax. This makes significant savings in running costs of the vehicle as the taxes are quite expensive in Japan. (Thanks to JJ aka MAD Mechanic)

The reason for their being two smaller Estima models, the Lucida and Emina, rather than just one, is also quite interesting. In Japan, there are five separate divisions under the Toyota corporate umbrella, with each marketing and servicing selected models. The two similar Estima models, the Lucida and the Emina with the 2.2 TD engine, were designated as such for two of these divisions of Toyota which initially wanted to distribute them. So, the two models were given different names to distinguish sales and statistics between the two divisions, (possibly done by Toyota as a way to stir sales competition within their own sales divisions). They are basically the same in engine, all mechanical parts and interiors. The only difference between the models are minor design features on the front grille section and the rear tail light section.

Also there was a model change in 1996 in Japan with the primary differences being different newly designed front and rear lights, the ABS feature and also twin airbags. Due to these added features on the 1996 model and onwards prices are relatively higher. (Thanks to Mike Ainis, Angel Motors Japan) Dimensions
| | | | |
| --- | --- | --- | --- |
| External | Length (mm) | Width (mm) | Height (mm) |
| Estima | 4750 | 1800 | 1790 |
| Estima Lucida | 4690 | 1690 | 1820 |
| Estima Emina | 4690 | 1690 | 1820 |

| | | | |
| --- | --- | --- | --- |
| Internal | Length (mm) | Width (mm) | Height (mm) |
| Estima | 2800 | 1635 | 1220 |
| Estima Lucida | 2890 | 1520 | 1220 |
| Estima Emina | 2890 | 1520 | 1220 |
Toyota Estima Specifications Unfortunately, there is no way of knowing what specification a model comes with. That is, in the UK, Previa models are badged GS, GL and GX, so you know what the baseline specification is. With Japanese Estima models, they are badged differently to the UK Previa, with different grades of specification, but without examining each individual model there is no way of knowing what specification is included on the vehicle concerned, as they nearly always come with extra options. As a guide, here are two pages from a 1995 Japanese Buyer's Guide (similar to UK's "What Car") . Although it is fraction of the entire list, it is quite extensive. Basically this tells you whether the model comes with features; air cond. (whether climate control or manual), e-windows, c-locking, ABS, audio
system and No. of speakers etc. You may find it easier to print these images to read them. MAD Mechanic.) "G" and "X" are a common grading scheme used by Toyota Japan on many of their vehicles in Japan, including the Estima Emina/Lucida. G is the higher grade, followed by the mid range (most prevalent) X models, and then F, S and D (basic) models. From 1995 onwards the basic models seem to have been discontinued and I doubt if there are many imported or have been imported to the UK. But in between these basic grades there are those models that have the "twin moon roof" and the slightly curved raised glass J-top sun roof. Also, models comes in "Luxury" & "Limited" models. But it is really hard to pin down what comes with each model as many of the Japanese, when originally purchasing their vehicle, may add a variety of other features. Some may have alloys and the rear spoiler, or they may add the cold/hot box with a CD system to add to the cassette radio. G models generally have the captain seats and the auto. climate control. But some of the X Luxury models also come with the captain seats and auto. climate control. So you can sometimes find a 4WD X Luxury model with better specifications and gadgets than a G. (Thanks to Mike Ainis, Angel Motors Japan) Apart from the badging of models, there are other give-aways of Japanese imported models. These are : Square number plates, which is the standard in Japan Reversing mirror, which overhangs the rear of the car The front windscreen wipers are both mounted on the drivers side (with 1 long blade and 1 short blade), whilst the European Previas have the arms mounted one on either side and cross over. (Thanks to Nick Keene) Accessories etc. This is a list of items that are available on Toyota Estima models. It has become apparent that Toyota make a vast range of optional extras and accessories. This may be a useful starting checklist to use when examining potential vehicles to purchase. I do not believe this list to be complete yet, and indeed if you know of an item or option that is not included please let me know and I will add it to the list.

Click here to see a page from an original Toyota Estima handbook. (Thanks to John New)

4WD ABS (became a standard feature on diesel models from 1996 onwards)(Thanks to Mike Ainis, Angel Motors Japan) Alloy wheels Boot liner - Plastic (Thanks to John New) Canopy (Thanks to John New) Captains chairs in middle seat row (reduces seating capacity from 8 to 7 seats) Central Locking Child-safe locking side slide doors. (A latch inside the sliding door panel which when on, the inside sliding door can not be opened from the inside, preventing possible accidents)(Thanks to Mike Ainis, Angel Motors Japan) Cigarette lighter Cruise control Cupholder's (Thanks to John New) Driver and passenger airbags Dual Air Conditioning (some with Climate Control i.e. you set the temperature inside the car)(Thanks to Mike Ainis, Angel Motors Japan) Dual Sunroofs: Manual sunroof at front and Electric Sunroof at rear "Easy close" back and/or slide door. (A lock mechanism whereby when someone like a child climbs into the back via the sliding door and doesn't close the door all the way, an auto pull mechanism actually pulls the door closed)(Thanks to Mike Ainis, Angel Motors Japan) ECT power. (see FAQ page for description of use.) Electric windows Electric curtains Full size spare wheel Heated electric mirrors (available on the 2.2 turbo diesel Lucida & Emina models but only since 1998)(Thanks to Mike Ainis, Angel Motors Japan) Heated rear window Hot and cold storage box Lace seat/headrest covers Metallic and Pearlescent paints Mock Walnut dash and door caps (Thanks to John New) Multi-box, consisting of 3 holder/tray's for coin's etc. (Thanks to Ian Watmore) Night Parking stick, on front bumper, lights up at night to aid parking (Thanks to Ian Watmore) Overdrive, button on column shift, when 'on" this transforms the transmission into a 4 gear mode, allows for smoother, quieter driving on straight roads, and gets slight better mileage. "Off" is primarily for going uphill or down hills (Thanks to Mike Ainis, Angel Motors Japan) Picnic table and chairs (Thanks to John New) Power Steering Raised Glass J-Top roof Rear spoiler Remote fuel flap release Reversing mirror (a give-away of a Japanese imported model) Roof rails Television Tilt adjustable steering column Tinted windows Transmission: Manual or Automatic Ultrasound parking sensors (at each corner of the vehicle)
White Steering Wheel (Thanks to John New)
Wire mesh window heat reflectors
110v DC electric hook up with outlet (Thanks to John New)

| | | | |
| --- | --- | --- | --- |
| | 2.4 | 2.4S | 2.2TD |
| Engine Capacity (cc) | 2438 | 2438 | 2184 |
| BHP/RPM | 133/5000 | 160/5000 | 101/4200 |
| Maximum Speed | 108 | 112 | 100 |
| 0-60 (seconds) | 11.7 | 11.0 | 14.5 |
| Average Fuel Economy | 25 | 24 | 30 |
| Transmission | 5 speed manual or 4 speed auto. | 5 speed manual or 4 speed auto. | 5 speed manual or 4 speed auto. |
| Brakes (Front/Rear) | Disc/Disc | Disc/Disc | Disc/Disc |
| Weight (kg) | 1900 (fwd)/2000(4wd) | 1900 (fwd)/2000(4wd) | 1850 |
Diesel Engine Details
The diesel engine used in the Estima Lucida/Emina comes from Toyota Automatic Loom Works, Ltd. which has produced diesel and petrol engines from 1.5 litres to 4.5 litres to be used in both automobiles and industrial vehicles. The company's diesel engines were jointly developed with the Toyota Motor Corp.
C-Type Diesel Engines and the Applications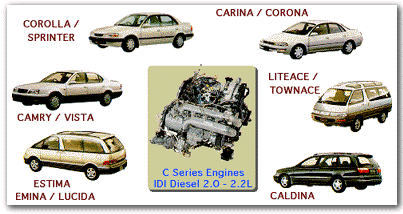 The C-type engines ranging from 2,000 to 2,200 cc are used in various Toyota vehicles including Estima Emina and Estima Lucida. The 3C-TE Turbo Charged Diesel Engine is shown in the photo above.

Here is a chart which hopefully demonstrates how the second-hand value of cars drops dramatically in Japan when it reaches five years of age. The cost is an estimated on the road price in the UK.