Thanks for the many queries I've received. There seems to be some common themes so I've put them together into this FAQ page. The information I have given is to the best of my current knowledge based upon information I myself have been given, I do not guarantee it's accuracy, if you disagree with something please let me know and if I concur with your view I'll make the appropriate changes.
Remember, I've created this site for you, so if you have a query please let me know. I'll answer as soon as possible, normally within 48 hours, if not quicker.
The second section of FAQ's have been taken from the Can You Help? page. Once a question has been answered over there, I will transfer the result to this page, trying to keep the Can You Help? page down to just unanswered questions and recently answered questions.
---
1. Q. Are parts easily available for a Japanese imported Toyota Estima?
A. Yes, the Estima shares many parts with the Previa, Picnic and Camry and there are many Parts Dealerships that specialise in supplying parts for them, my Links page lists a few, or you could try : Jem Grey Imports 0208 457 2279 or. Import Solutions, 01934 417222. (Thanks to David Allen)
---
2. Q. How easy is it to get the Toyota Estima serviced?
A. So far every dealer I've contacted is able to service the Estima. The engine is the 3C-TE Turbo Charged Diesel Engine and the petrol version is the same as available in the UK on the Previa. The diesel engine, although "mid-mounted" does not present any compatibility problems. Body panels are another issue however, as they are different from the Previa they may have to be imported from Japan. So drive carefully!
---
3. Q. Is is easy to get the paint work colour matched accurately in the UK?
A. Yes, body shops should be able to access World Colour Charts, and thus accurately mix to match the colour of your vehicle. You'll need to supply them with the three character Colour Paint Code which is on the identification plaque, normally found on the edge of the front door or under the bonnet on the Estima. I'm compiling a list of known Toyota Colour Paint Codes, click here to view them.
---
4. Q. What options are there for a warranty on my new Toyota Estima?
A. You should ensure that your dealership provides at least a six month warranty, but check the small print carefully for what is covered (more importantly, for what's NOT covered!). Most warranties are in fact mechanical breakdown insurance (MBI), so you have to pay for the repairs up front and claim the money back from the warranty provider. If you want an extended warranty, you could either approach the dealership for a quote or perhaps try an independent company to buy direct. Here's a couple of links to for direct warranties:
http://www.motorwarrantydirect.co.uk/
http://www.warrantywise.co.uk/
http://www.autotrader.co.uk/cars/warranty/warrantylink_mbg.html
---
5. Q. What are the differences between the requirements of the Toyota Estima for use in the UK rather than in Japan?
A. All imported Japanese cars need some form of change to make them comply to the requirements of the SVA Test. For example: the speedo will need to be converted to read MPH, this can either be done by the addition of a new display face or having the speedo converted. If not already fitted the Estima will need a rear fog light with the appropriate dashboard switch that illuminates when activated. The fuel filler neck may need to be changed. Although not a legal requirement, you'may also want to fit a waveband expander to your radio, as Japan broadcasts on a narrower range of frequencies than the UK.
---
6. Q. What Insurance companies will cover my Toyota Estima?
A. Most Insurance companies will supply cover, so as normal shop around. I've included a short list, this is not comprehensive , if you know of any other companies worth a mention, then let me know and I'll include their details. Here are some companies to try:
http://www.royalsunalliance.co.uk/family/motor/
http://www.admiral-insurance.co.uk/
http://www.directline.com/welcome.htm
Bennetts Direct (01635 576609)
Privilege (0113 292 5555)
OPI (0870 242 0800)
A-Plan (01635 874646)
---
7. Q. I've heard that the Toyota Estima isn't as well undersealed as the Previa, is this true and if so should I worry about it?
A. Yes it's true the Japanese do not underseal as well as cars made for the UK market. I would recommend that you get the car undersealed properly quotes are from about £50 + vat to £230 + vat, but make sure you know before hand what is being covered and with what material, e.g. Paba, WaxOyl.
---
8. Q. What can I do? All the documentation for the Toyota Estima is in Japanese script, and the dealer doesn't provide English versions, but I want an Owner's Handbook.
A. Try this link http://www.carimporters.co.uk/toyota_form.html they currently charge £24.50 which includes P&P. STOP PRESS : Click here for a special offer to visitors of this site.
---
9. Q. What are the fuel consumption figures for the different engines/drive configurations for the Estima range?
A. Official Toyota figures are:
2WD

4WD

Model

2.4

2.2TD

2.4

2.2TD

Estima

15.3

43.2

14.2

40.2

Estima Emina

14.3

40.4

19.8

56.0

13.4

37.9

18.4

52.0

Estima Lucida

14.3

40.4

19.8

56.0

13.4

37.9

18.4

52.0
(Figures are in km/ltr and MPG at 60km/h on level ground)
(Thanks for the mpg conversion by JJ aka The Mad Mechanic)
See My Estima Review for my fuel consumption figures todate.
---
10. Q. Can the middle bench seat be swivelled to be rearward facing, and if so how?
A. The middle three seats are arranged as one double and one single. The single is nearest the sliding door, and they each have a turntable underneath them as well as the normal forwards/backwards movement. Pulling the small loop in the seat side that you use to tip the back of the seat forward activates the swivel. You then swivel the single seat 90 degrees, then swivel the double seat 180 degrees, then swivel the single seat the remaining 90 degrees. When you restore the seatback to its upright position the swivel mechanism is locked. It takes less than a minute to do this. There are lapbelts built into each seat so you have still got seat-belts (not 3 point one's) if you are rearward facing. (Thanks to Nick Keene)
---
11. Q. Do you have contacts as regards providing finance for the purchase of an Estima?
A. Yes, a company called Cash Flo (UK) would be able to source a finance package for you. They do not charge any fees to customers, and look at people who have been refused by other finance houses. They are not finance providers themselves, but use their extensive database to search for a suitable package for you. Do not be put off by their online application form, they do provide their service to private individuals, just leave any fields blank that don't apply.
http://www.factoringuk.co.uk/contact2.htm
---
12. Q. For holidays/camping etc, I need a top box. Do you know if there are any problems fitting these to Estimas? Do I need to specify a model with roof rails?
A. On most X & G models there is a black trim strip down the side of the roof on each side. On this black trim, there are two caps about 8-10 cm long on each side (4 in all) that will pop out. They are spaced exactly opposite each other on the roof. Under these are female fittings as part of the roof frame that will take any standard size bolt & nut, etc, that comes with a roof rack or top box. So you can then solidly bolt down ant roof rack/ box. (Thanks to Mike Ainis of AMJ)
---
13. Q. On the Front Panel A/C control there is a sliding lever on the lower left-hand side (beside the fresh air / recirculation sliding switch) and below the heat control. Since my Japanese is non-existent I am unable to read the writing next to it. Do you know what this lever does? The dealer that we are buying the car off doesn't have a clue.
A. The slider switch on the "X" grade, in Japanese translates as, "back seat priority heater". In winter, if you have a cold mum in the back with kids, you can set the adjustable heat switch for the back rows, so the heat goes there first. (Thanks to Mike Ainis of AMJ)
---
14. Q. I have a 95 Lucida . Recently a warning light came on my console in amber which looks like a casserole dish half full with liquid and a tear drop below it. I have a Previa owners manual and it does not list this warning lamp. Any ideas as to what it relates to would be much appreciated.
A. The light that has come on is the Fuel Water Filter (separator) warning light (which is only applicable to diesel engines). This light will show when the Fuel Water Filter is full of water. Empty the filter as soon as possible. If normal driving is continued, there is a danger of burning out the Fuel injectors damaging the engine. (Should the Battery warning light and Fuel Water Filter warning light show at the same time, it is an indication of a charging problem, not a Fuel Water Filter problem).
Usually the separator is located at the near side of the engine bay but the location of components often change when there is a revision. However, one should be able to trace the fuel line to find the separator. It can be under the bonnet or you may need to access via under the passenger seat.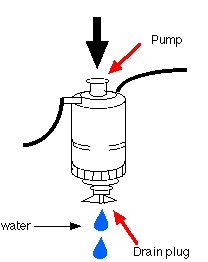 As for direction for draining the water is as follows:
1) Stop the engine
2) Put a suitable container under the separator to prevent fuel from splashing all over the place.
3) Loosen the drain plug.
4) Press the pump from the top to drain the water. The amount of water should be about half a glass full.
5) Tighten the drain plug.
Do not to drive once the warning light comes on, as carrying on driving while the warning light is on may seize the fuel pump and consequence can be quite devastating.
(Thanks to JJ aka MAD Mechanic)
---
15. Q. Can you tell me what the tyre pressures should be for the Estima Lucida/Emina?
A.
| | |
| --- | --- |
| Type | Front & Back |
| Full Size | 2.3 kg/cm2 (32.7 psi) |
| Space Saver Spare | 4.2 kg/cm2 (59.7 psi) |
---
16. Q. My problem ( probably 1st of many to come ) is the radio, it is the bog standard radio without cassette or CD, so off I trots to get a in car entertainment system worthy of my new beasty. So I got one and now I am stumped at the first hurdle. How do I remove the original radio ? How do you remove the plastic facia without breaking it?
A. Regards the facia surrounding the radio, I can only speak from my own experience, and that was to prise of the facia with a flat-head screwdriver as it's only clipped in and not screwed. The clips are held firmly though, and you may have to be a little brave to actually prise them free. Please note this worked on my model and I do not guarantee it working on other models, and cannot accept responsibility for any possible damage. That disclaimer being made however, I would be extremely surprised if there was any difference. To disconnect the radio simply ease off any power/aerial connectors.
---
17. Q. I'm very pleased with my "new" Estima, but I just can't get that showroom look that I think it deserves when I clean it. Can you suggest anything?
A. Yes I can. Last year I rediscovered Autoglym, a complete range of car care products. I had used their polish a few years ago, and to be honest I'd forgotten about it. I gave their "Super Resin Polish" another go last year, and was pleased with the result. I investigated the range further and decided to try their "Extra Gloss Protection". I followed the instructions to the letter, on my five year old Cavalier, and was amazed at the result, I couldn't believe I could get such a good finish - as if it had come direct from a showroom. I'm looking forward to the better weather so I can give the Estima the same treatment. I've also invested in Autoglym's "Car Glass Polish" and "Bumper Care" and am equally pleased with the results, especially the "Car Glass Polish", the first thing I've ever used which effectively gets rid of the film that forms on the inside of a car's windows. I'm sorry I sound like a salesman, but I am genuinely impressed by these products; they're not cheap, but I don't think they can be beaten.
---
18. Q. Can you tell me what the ECT button is for?
A. The ECT Power button doesn't actually increase power output from the engine. It is also not only fitted to the turbo engine; it's an automatic transmission feature. What it does is shifts each pre-programmed change point (in RPM) up a few hundred RPM, letting the engine rev a little harder before the electronic transmission shifts up to the next gear. This gives a little more acceleration on hills, overtaking etc, as the transmission isn't dropping into the next gear quite so early, and makes better use of top end power, at the expense of economy. (Thanks to Wayne Poll)
---
19.

Q. I mentioned this in my questionnaire details recently, but still can't find out what this button does. It's attached to the dashboard, low down and joins a connector, that is attached to a main wiring loom. It appears to be an extra, but seems to be factory fitted, by the quality of the switch. The switch unit has three wires at the rear, the main button is orange in colour, and is illuminated when pressed to the on position.
A. It is an idle up button for the diesel engine to maintain the heating for cars with diesel engines. The 2 characters on the button mean, 'fast idle' or 'warm up'. Which spec is it for? Well, this is complicated bit. Ready?
In Japan, there is a thing called 'Northern spec' for most makes of cars. This is not an factory option or anything but simply means cars sold in Northern area of Japan where snow and sub zero temperature is common in the winter. In a way, it is like having a 'Scottish spec' if it is in UK. Those cars are generally equipped with larger batteries, thicker carpets, rear foglights and winter fighting gadgets such as this button here to keep the idling high to maintain the heatings. But the confusing thing is they also have a thing called, 'snow version' which is a factory option pack and can be specified during ordering to cars which are non Northern spec, or in other words cars sold in areas other than the Scotland equivalent of Japan, Hokkaido. In such cases, not all but certain feature available to Northern spec can chosen. So for estimas, any spec whether it is X, G etc can be Northern spec if it was originally sold in Northern part of Japan. Equally, any spec can have snow version if it was originally sold in areas other than the north. But unfortunately, it is very difficult to find the info to compare the difference of Northern spec and ordinary ones. (Thanks to JJ aka MAD Mechanic)
---
---
Previously on the Can You Help? page.
---
---
i. Q. Neither my garage, nor I can find a way to reset the "Change Engine Oil" light on the dashboard, even though we've removed the dashboard and instrumentation. I was wondering if you know how to reset the warning light?
A. This light will show when the oil should be replaced. The unit will have to be reset after replacing. Remove the cover and push the reset button with a thin stick. After resetting, the warning light will go out.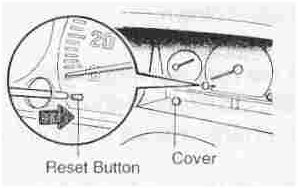 (Thanks to John Neale)
---
ii. Q. Do you know where we can obtain a remote control for the television, as it doesn't work without one?
Mine comes with a TV, which does not appear to be working. Would this be to do with different frequencies here than in Japan and where could I go to get this working?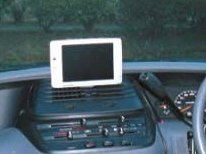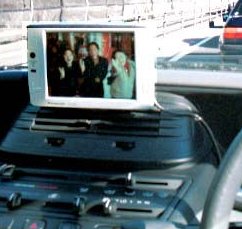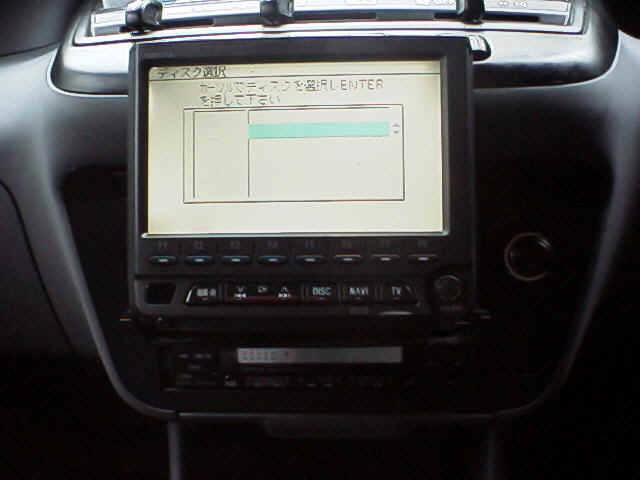 A. Well there's good news and bad news on this subject. The background which I'm sure a lot of you will know or suspect, is that Japanese television uses the NTSC standard (same as the USA) whereas in the UK we use PAL. These two standards are not compatible. The good news is that the TV's can be converted, but this conversion would be extremely expensive. It may well work out easier if not cheaper to buy a car TV unit from the UK. (Thanks to Mark Pickin)
---
iii. Q. It appears that there are two oil filling points, one under the front passenger seat, and one under the bonnet with a plastic tank. Both have a cap with the oil can symbol on it, but I'm not sure if they are both for the engine oil.
A. On a Previa there are two locations for oil. There is an oil filling location under the driver's seat. On my '95 S/C, the engine is a flat four and is under the front passenger seat. The filler location under the drivers seat is for refilling oil during scheduled oil changes. The plastic tank under the hood is a stand-by supply of oil is the level in the engine should drop. On the Previa there is a float in the oil pan that, if needed, calls for additional oil from the stand-by tank. In five years I have not had any problems with this system. It has caused some people problems if the floats sticks. You pump about two quarts of oil into an already full engine. (Thanks to Bill Ratekin)
---
iv. Q. When I switch on the fan and the heater to demist a slightly misted front window the hot air is obviously coming through very heavily moisture laden as first of all the windscreen becomes completely misted, pure "white out" so I have to stop driving. After a minute or so the air becomes dry enough to actually demist the screen, but this initial misting when switching the fan on is very disconcerting. I don't know whether it's a fault on my particular Estima or whether it's common to other models also.

I was just curious if any other Estimas suffer a similar fate.
A1. I too have suffered this and the solution is to use the air-con. and not heat (of which there will be little as the engine will be cold) The following extract is from the Previa handbook and may be helpful:

To remove interior fog on the windshield.
1 Place temperature control lever to any position
2 Move the air intake control lever to the OUTSIDE AIR position
3 Move the air flow control lever to the WINDSHIELD position
4 Move the fan speed control lever anywhere EXCEPT the off position
5 Press in the air-conditioning on-off button

I find this works and as the engine warms the air-con. can be turned off and warm air introduced. (Thanks to John New)
A2. The only way we have found to clear this problem quickly is to switch on the front screen blower which automatically operates the a/c. This clears the windows almost instantaneously. I must say that as yet we have not yet established exactly what makes this happen in the first place. (Thanks to Richard Greenwood)
---
v. Q. I own an Emina Estima 4x4 2.2TD (1994) that has a flat spot/misfire at around 2700rpm.
My garage tells me that the onboard computer shows a fault code of 35, but doesn't know what this refers to.
A. OBD code for 3C-TE engine.

Code 35 = Turbo Pressure sensor
Related area = Turbo pressure sensor wiring, turbo pressure sensor, gas filter, turbo charger and ECU. (Thanks to JJ aka MAD Mechanic)
---
vi. Q. Do you know anything about attaching child seat anchor points to the floor? The dealer reckoned there were threaded holes in the floor that you could screw the anchor points into (after you've somehow found them through the carpet) but the only holes we can find aren't threaded, and they're not easy to get at under the carpet. Any clues would be helpful.
A. There are 5 child seat anchor points, 3 in the back row and 2 in the middle row. Yes they are threaded, my standard old car anchor bolts fitted ok, but having been unused, required a squirt of CRC.

With regards to finding them, on my model at least (93 Lucida), the carpet has penetrations which you will near to tear back to get access to the bolt holes. In fact you should find that the factory supplied anchor bolts are already in place. I had no trouble locating them

The main problem with the anchor points in the middle row is that it almost impossible to get access to the back row if you put any child restraint in the seat next to the door, as it won't then allow you to operate the seat release ( since the seat is now effectively bolted). (Thanks to Mark Palladino)
---
vii. Q. Is extra Transmission oil cooler needed for towing the caravan?
A. I have towed to Spain in '99, and south west France in 2000, both times in August pulling a twin axle van with no problems and without an oil cooler. So I can only say it works for me - my Estima is a manual, an auto. may be another story. (Thanks to Archie Archer)
---
viii. Q. Are there any specific areas to look out for regarding potential faults?
A.
Check for BLOW BY which is oil or smoke being blown out of the dip stick holder when the dip stick is removed. this is a sign of the engine creating pressure from the pistons.
Remove oil filler cap with the engine turned off, using a torch check for signs of milky oil sludge. This is a sign of a blown head gasket leading to water contaminating the oil. If this is seen then have a mechanic do a compression test and a water system pressure test to be certain. Sludge being present is a sign of poor servicing, the engine will need to be flushed several times and both tests above done. It is also advisable to have these tests done as a matter of precaution if at all possible. (Thanks to Mike Shutes)
---
ix. Q. I have received my lucida back from repair, it is still knocking at about 2500 rpm upwards. Everything has been checked & replaced as far as possible; the crank's o.k. rod's check out, head has had some work, i.e. valve lap re-shimming, gas check, new bearings r-through, the only thing we found was the gudgeon pin bushes on 3 cylinders were worn. I also still have a leak on the oil pumpshaft after a full toyota rebuild kit, the noise was not present when I test drove the car, but within 24 hrs my ear's had picked up on this noise, which has become louder, till in the end I have had the engine stripped - its all ok, its not the ancillary, the shaft was disconnected and it still knocks HELP? £1700 and no end in sight.
A. If this is a Diesel engined vehicle, I would suggest having the Diesel System checked. It is very common when people rebuild engines that they do not have the fuel pump checked and injectors recored. This sounds like a problem with overfilling from the pump. Have the pump checked and get the injectors overhauled. (Thanks to Mike Shutes)
---
x. Q. I would like to install turbo timer on my Toyota Estima Lucida 1994. Does anybody have any experience with installation of turbo timer on Estima?
A. Turbo Timers are easy to install - wire directly to the ignition switch wiring. I can supply the item which comes with a wiring diagram. Contact Mike@jappartsdirect.com (Thanks to Mike Shutes)
---
xi. Q. I own a Toyota Estima Lucida '94 model CXR21G and the front shaft brings me a lot of problems - I've used it for 4 years and I heard a noisy sound from the front shaft, the mechanic found out that both ends of the shaft had 6 pcs each side round rubber ring were damaged, I changed a shaft and after about 1 year, it's happened again, WHY ??? NEED HELP ???

A. Check all ancillary mounts on engine, e.g. air condition pump, alternator etc. You will find that these mounts are worn causing too much movement on the shaft, hence wear. Use only genuine parts for this repair as problems will reoccur with aftermarket items. (Thanks to Mike Shutes)
---
xii.

Q. Is there an English language workshop manual available?
A. See Workshop Manual page.
---
xiii.

Q. My Estima has a leaky rear window, any ideas to fix it?
A. If this vehicle is wet inside the boot area the first and most common cause is leaking around the seals on the rear lights and trim between the lights.remove the lights and trim and apply a liberal amount of silicone around the rear seals this will cure the problem. if however the leak has
been traced to the rear window get the window removed seal replaced and re-fitted. (Thanks to Mike Shutes)
---
xiv.

Q. I have somehow managed to cause my sunroof to jam right up. What has happened is the sunroof for the passengers has a manual sliding shade/protector and that stuck fast causing the glass portion of the electric sunroof to move about 3/4 of an inch then stop. Because I don't know what lies above I am a little reluctant to give it a good yank any ideas?
A. The roof's internals slides are a real pain to get apart but not impossible, and normally come out of the runner which causes the jamming sunroof. (Thanks to Bob Murphy)
---
xv.

Q. Although having an Estima 2.2 TD rebuilt several times, unit has developed an over heating problem when accelerating in turbo mode at 50 mph+. Temp gauge rises to red quickly and engine will soon boil over if not brought to stop. Once stopped temp drops to normal after a few minutes and vehicle can be driven again, in fact vehicle can be driven all day at slow speeds/revs - under 40 mph.
Have changed thermostat, had radiator cleaned and tested, viscous fan seems OK.
Question - does anybody know if there are other thermostat/valve devices in the engine somewhere which may be activated when the engine gets hot running at high revs?
In fact any ideas anybody has would be appreciated.

A. Have the head and block been "crack tested", as Estimas suffer with this if overheated, and will drive all day at slow speeds, even with cracks. (Thanks to Bob Murphy)
---
xvi.

Q. On a tech. note, when I turn the ignition on the glow plug light goes out very quickly and after a few seconds there is a continuous beep. Do you have to wait for the beep before starting up or just the plug light to go out. Any advice gratefully appreciated.
A. i) The way to start the engine, is just to wait for the light to go out. the beep you get is because the ignition is on and the alternator is not charging, i.e. engine is not running. (Thanks to Bob Murphy)

A. ii) The glow plug light goes out to indicate that the glow plugs are hot enough for the engine to be started. The continuous tone is a warning that the ignition is still on and that the
battery is being drained by the glow plugs. (Thanks to Dennis Western)
---