I'll be there either Saturday or Sunday afternoon, with my wife and two children - I'll be the one pushing a blue and yellow pram........as usual.
PS - My four year old son wants a shiny red sports car, can anyone do us a deal!
For more information like how to get there, exhibitors list, etc. visit the Imported Car Show website by clicking here, or seeing the flyer below.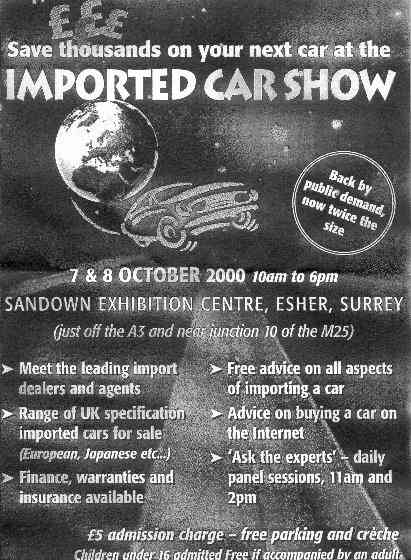 Well I was planning an in-depth review of the show, but to be honest it wasn't of a great deal of interest to this site! Most of the exhibitors were concentrating on imports from Europe.
My family and I attended the show on Saturday, braving the rainstorms on the motorway.
The most useful part of the show was being able to talk face-to-face with a director of the company who will be bringing the car through customs etc. at Southampton, they will also be carrying out the SVA preparation and test.
There was one Estima on their forecourt, which wasn't especially nice. I did enjoy looking at some of the more exotic cars like the Chrysler PT Cruiser and a very nice Camero, which after expressing an interest in, was told to "dream on" by my better half!
Hello to Dave (sorry but you didn't give me your surname, and I didn't ask) who introduced himself to me at the show.
All in all, an enjoyable day out, but they could do with improving the Japanese exhibits.